01 Aug

Army Scholarship Foundation Announces Scholarship Awards for 2007-2008 Academic Year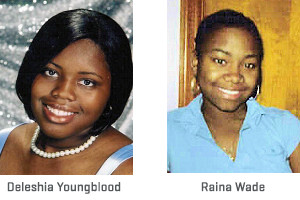 The Army Scholarship Foundation announced today the award of seven scholarships to deserving children of United States Army soldiers and veterans and to spouses of active duty enlisted soldiers. Scholarships for the upcoming 2007-2008 academic year were awarded to Jennifer Cheek of Fayetteville, NC who is attending UNC Greensboro; Janay Cheek of Fayetteville who is attending North Carolina A&T State University; Ashley Wright of El Paso, TX who is attending the University of Texas at El Paso; and Kevin Northcutt of Niantic, Connecticut who is attending Stonehill College in North Easton, Massachusetts. In addition, a scholarship was awarded to Army spouse Amy Garlick of Clarksville, TN, who is attending the Miller-Motte Technical College of Clarksville. Mrs. Garlick's husband is Sergeant Robert Garlick, who is assigned to the 101st Aviation Regiment at Fort Campbell, KY.
The Captain Jennifer Schafer-Odom Memorial Scholarship was awarded to Deleshia Youngblood of Fort Campbell, KY who is attending the University of Louisville in Kentucky. She is the daughter of Sergeant First Class and Mrs John Youngblood. SFC Youngblood is assigned to the 101st Airborne Division at Fort Campbell.
Jennifer Shafer Odom grew up on a dairy farm in Knoxville, Maryland. After graduating first in her class at Brunswick High School, she entered the U.S. Military Academy and graduated as a member of the Class of 1992. She became an Army aviator and served tours of duty in both the United States and Europe, where she supported both the Kurdish refugee and Bosnia missions. While serving with the 204th Military Intelligence Battalion at Fort Bliss, Texas in 1999, her aircraft was reported missing while flying intelligence and counter drug missions over Columbia, South America. She and her crew were lost.
The Lieutenant Scott Love Memorial Scholarship was awarded to Raina Wade of Cliffwood, New Jersey who will attend Johnson Smith University in Charlotte, NC. Miss Wade's father was killed in action in 1991 while serving in Operation Desert Storm.
Scott Love was an "Army brat" who was born at Fort Campbell, KY and graduated from high school in Huntsville, AL. He graduated from Florida State University in 1996 and enlisted in the US Army in 1999 as a military intelligence specialist. In 2003, he attended Officer Candidate School at Fort Benning, and was subsequently assigned as a platoon leader with 2nd Battalion, 6th Infantry stationed at Baumholder, Germany. His unit deployed to Kuwait in November 2005 with Scott's platoon assigned as part of Task Force 1-35 Armor when he was killed at Ar Ramadi, Iraq.
The Army Scholarship Foundation was founded in 2001 by concerned Army veterans who desired to continue their service to the Nation and to support and assist families of Army soldiers. The Foundation provides scholarships to deserving sons and daughters of US Army soldiers and Army veterans, as well as to spouses of serving active duty enlisted soldiers. The Foundation is sustained by the generous donations of its supporters. Tax deductible donations can be sent to the Army Scholarship Foundation, 6412 Brandon Avenue, Suite 201, Springfield, Virginia 22150.