10 Oct

Army Scholarship Foundation Recognizes KBR for Its Outstanding Support of Army Families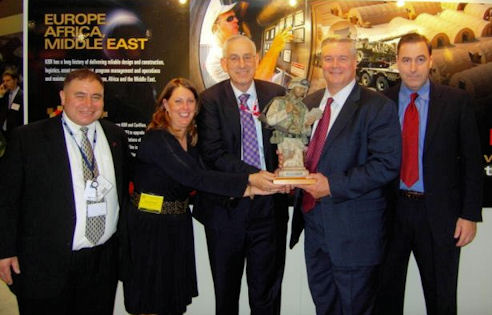 Representatives of the Army Scholarship Foundation met to recognize KBR for its support on October 5th during the annual Association of the U.S. Army convention in Washington, DC. Foundation Board Chair Jeff Gault and Board Member Michael Gonzales made the presentation at the KBR display at AUSA.
Pictured above are Jeff Gault presenting the award to Lieutenant General Rick Hack, U.S. Army, Retired, KBR Senior Vice President for Operations, Maintenance, and Logistics. Also pictured, left to right, are Foundation board member Mike Gonzales, Karolyn Stuver, KBR Director of Strategy and Marketing, and Dave Thomas, KBR Chief of Staff and Director of Operations.
The Army Scholarship Foundation honored KBR for its strong support and for being the first corporate supporter to endow a perpetual scholarship award. KBR, headquartered in Houston, Texas, is a major contractor and partner for the Department of Defense and the U.S. Army and is actively involved in supporting programs to assist the greater Army family.
"Our commitment to supporting the U.S. military extends beyond the services we provide to those deployed," said Rick Hack, " Just as we are a full service provider, we are a full supporter, helping provide a better life and opportunities to troops and their families at home and abroad."
The Army Scholarship Foundation was founded in 2001. The Foundation provides scholarships to deserving sons and daughters of U.S. Army soldiers and Army veterans, as well as to spouses of serving active duty enlisted soldiers. The Foundation is sustained by the generous donations of its supporters, and tax free donations can be sent to the Army Scholarship Foundation, 6412 Brandon Avenue, Suite 201, Springfield, Virginia 22150.