03 Mar

Building at Fort Gordon, Georgia Named in Memory of Army Scholarship Foundation Honoree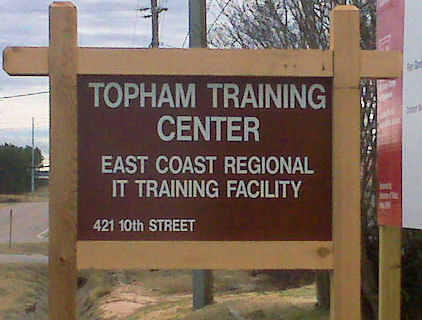 On February 22, officials at Fort Gordon, Georgia dedicated the Topham Training Center in memory of Sergeant Andrew Topham. The building, located at 10th Street and Chamberlain Avenue on Fort Gordon, was dedicated by Colonel David Dodd, Forces Command Deputy Chief of Staff/G-6 and Sergeant Topham's mother, Laura Topham.
In 2009, friends and family of SGT Topham pledged to endow a perpetual scholarship for Army families in Andy's memory. As a result, beginning in 2010, the Army Scholarship will award the Sergeant Andrew Topham Memorial Scholarship to a deserving Army family member.
At the ribbon cutting ceremony, Dodd said, " This is the most important thing I will do this year." The center will be an East Coast Regional IT Training Facility.
Dodd first met SGT Topham while Dodd was commander of the 86th Signal Battalion. Topham was a specialist at the time, but he was a vital force in setting up communications networks in Middle East in the days following the Sept. 11, 2001 terrorist attacks.
Topham was deployed in November 2001 with Task Force 86 to Uzbekistan, Afghanistan, and Pakistan. He set up networks in areas previously uninhabited by U.S. forces. The U.S. Embassy in Afghanistan, which had sat vacant since 1979, was one of the places he installed communication systems. He assisted the British with communications. He set up a communications network at Bagram Air Base, and was instrumental in training other noncommissioned officers at the facility. Topham was also a lead trainer for soldiers at the V Corps Rear at Camp Anaconda and the Third Army.
Topham returned to the U.S. and became an Advanced Individual Training instructor at Fort Gordon. He later became a Department of the Army civilian employed with the 93rd Signal Brigade, now the 35th Signal Brigade, and then with CECOM Information Technology Field Service Branch.
Andy died at the age of 27 in December 2006.
Other supporters and friends of the Topham family wishing to contribute to Andy's scholarship fund with a tax deductible donation may do so by contacting the Army Scholarship Foundation. Additional information about the Sergeant Andrew Edward Topham Memorial Scholarship is available on the Army Scholarship Foundation web site.
The Army Scholarship Foundation was founded in 2001 to provide scholarships to deserving sons and daughters of U.S. Army soldiers and Army veterans, and to spouses of enlisted active duty soldiers. The Foundation is sustained by the generous donations of its supporters. Tax deductible contributions can be sent to the Foundation at 6412 Brandon Avenue, Springfield, Virginia 22150 or can be made on line.