06 Jun

Congressman John Shimkus Joins Honorary Advisory Committee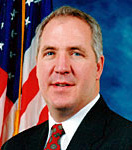 Congressman John M. Shimkus has joined the Army Scholarship Foundation as a member of the Foundation's Honorary Advisory Committee. Congressman Shimkus represents the 19th Congressional District in southern Illinois. His district has a very large per capita population of Army veterans.
Congressman Shimkus is currently serving his sixth term in Congress. He is one of the very few graduates of the United States Military Academy serving in the Congress and is a strong advocate for servicemen and women, military families, and America's veterans.
As a veteran of six years active duty and over 21 years reserve duty with the United States Army, Congressman Shimkus is very familiar with the challenges faced by the families of our soldiers and the families of veterans. Largely as a result of their sacrifices made in serving their country, military members and veterans are often ill prepared for the high costs of higher education for their family members who aspire to pursue their goals of higher education. As a member of the Honorary Advisory Committee of the Army Scholarship Foundation, Congressman Shimkus will provide advice and counsel to the volunteers of the Foundation as they assist deserving Army family students in the pursuit of their educational dreams.
The Army Scholarship Foundation was founded in 2001 to provide scholarships to spouses of enlisted US Army solders and to deserving sons and daughters of soldiers and Army veterans. The Foundation is sustained by the generous donations of its supporters. Tax free donations may be sent to The Army Scholarship Foundation, 6412 Brandon Avenue, Suite 201, Springfield, Virginia 22150.