12 Jul

Congresswoman Shelley Moore Capito Joins Honorary Advisory Committee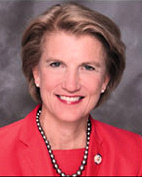 Congresswoman Shelley Moore Capito has joined the Army Scholarship Foundation as a member of the Foundation's Honorary Advisory Committee. Congresswoman Capito represents the 2nd Congressional District in West Virginia. Her district has one of the largest per capita populations of Army veterans of any district in the nation.
Congresswoman Capito is currently serving her fourth term in Congress. She is the only Republican and the only woman in the West Virginia congressional delegation. Capito is a committed public servant who prides herself on being approachable and accessible to her constituents.
As the daughter of a combat-wounded Army veteran and as a Congresswoman who represents a large percentage of constituents who are veterans, including both active duty and former service members and their families, Congresswoman Capito is most familiar with the challenges faced by the families of our soldiers and their families and by the families of veterans. Largely as a result of their sacrifices made in serving their country, military families are often ill prepared for the high costs of higher education for their family members. As a member of the Honorary Advisory Committee of the Army Scholarship Foundation, Congresswoman Capito will provide advice and counsel to the volunteers of the Foundation as they assist deserving Army family students in the pursuit of their educational dreams.
The Army Scholarship Foundation was founded in 2001 to provide scholarships to spouses of enlisted US Army solders and to deserving sons and daughters of soldiers and Army veterans. The Foundation is sustained by the generous donations of its supporters. Tax free donations may be sent to The Army Scholarship Foundation, 6412 Brandon Avenue, Suite 201, Springfield, Virginia 22150.