05 Jul

Friends and Family Establish the Sergeant Andrew Edmund Topham Memorial Scholarship with the Army Scholarship Foundation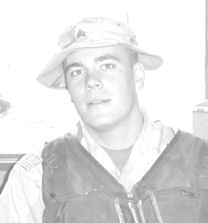 Friends and family have established a perpetual scholarship with the Army Scholarship Foundation in the memory of Sergeant Andrew E. Topham. The, son of Edmund & Laura Topham brother to Ms. Kristin Topham Homze and Ms. Denise Topham-Williams, and father to Ashley Topham, SGT Topham served combat tours in both Iraq and Afghanistan as well as tours of duty at Fort Gordon and Fort Huachuca.
SGT Topham grew up in Randolph, Massachusetts near Boston, attended Randolph High School and was a member of the football and wrestling teams. Growing up, he spent summers on the beaches of Martha's Vineyard fishing for blues, digging for clams and quahogs, biking and exploring Felix Neck. He joined the Army in 1999 and attended basic training at Fort Jackson, NC. He was subsequently assigned to the 86th Signal Battalion as an Information Systems Operations-Analyst. His daughter Ashley was born during this assignment. He deployed to Afghanistan in 2001 and to Iraq in 2003 in support of the Global War on Terrorism.
SGT Topham was a highly decorated soldier. He was awarded the Bronze Star for service in Operation Enduring Freedom in Afghanistan. In addition he earned the Army Commendation Medal, Army Achievement Medal, Good Conduct Medal, National Defense Service Medal, Afghanistan Campaign Medal, Iraq Campaign Medal, Global War on Terrorism Expeditionary Medal, Global War on Terrorism Service Medal, Noncommissioned Officer Professional Development Ribbon, Army Service Ribbon and the Overseas Ribbon.
Friends of the Topham family have joined together in support of funding this scholarship in memory of Sergeant Topham. Others wishing to contribute to this scholarship fund may do so by contacting or sending a tax deductible donation to the Army Scholarship Foundation. Additional information about the Sergeant Andrew Edward Topham Memorial Scholarship is available on the Army Scholarship Foundation web site.
The Army Scholarship Foundation was founded in 2001 to provide scholarships to deserving sons and daughters of US Army soldiers and Army veterans, and to spouses of enlisted active duty soldiers. The Foundation is sustained by the generous donations of its supporters. Tax deductible contributions can be sent to the Foundation at 6412 Brandon Avenue, Springfield, Virginia 22150 or can be made on line.