10 Nov

Keynote Speech at Fall Luncheon

Release date: November 10th, 2023

For more information contact: Jeff Gault at jeff.gault@ArmyScholarshipFoundation.org

Dallas, TX – On the 24th of October the Army Scholarship Foundation held its eighth annual Fall Luncheon to raise money for US military family member scholarships.

The Army Scholarship Foundation is a charitable, non-profit organization dedicated to providing college scholarships for to deserving children of current and former members of the U.S. Army, and to spouses of currently serving soldiers.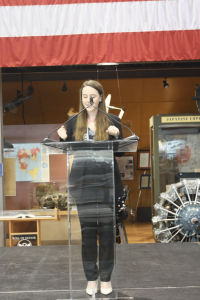 Keynote speaker at this luncheon was University of Texas at Dallas student Sarah Gifford.
Daughter of retired Army Sergeant Brian Gifford, Sarah is a proud scholarship recipient. She spoke of her experiences and the Foundation's support to over 250 attendees at the luncheon.  Sarah received two scholarships from the Army Scholarship Foundation, and this financial support helped to provide her with the encouragement and funds needed to pursue her degree, develop skills, and build connections for her future career as an HR professional.
At The University of Texas at Dallas, Sarah is majoring in Business Administration with a minor in Human Resource Management and will graduate this December.
During her college career, Sarah has maintained straight A's, worked several jobs, served as a leader for multiple student organizations, and has won academic awards on the school, state, and national level. In addition, she has completed over 1400 volunteer hours for various charitable endeavors.
The Army Scholarship Foundation's funding gave her flexibility to engage in her student community, ultimately bolstering her resume to provide a path to future career success.
Upon graduation, Sarah will begin a full-time position in HR at Texas Instruments, thanks to the generous support of her scholarship donors.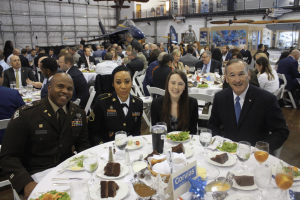 Founded in 2001 by a group of U.S. Army veterans, the Foundation is dedicated to assisting sons, daughters, and spouses of soldiers in achieving their educational dreams. It is staffed entirely by volunteers and keeps operating expenses extremely low so that over 90% of donated funds go toward scholarships.
Would you like to support the Army Scholarship Foundation and hundreds of students like Sarah? Please make a one-time or recurring donation of your choice. Every amount helps! Click here to donate.