25 Feb

Lenders One Corporation Establishes Private First Class Christopher R. Klassen Memorial Scholarship with the Army Scholarship Foundation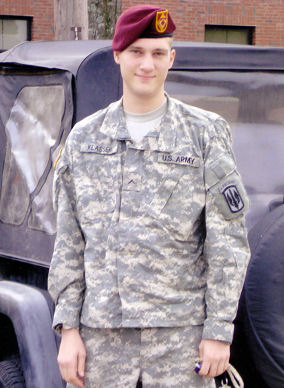 The employees of the Lenders One Corporation in Saint Louis, MO have established a scholarship with the Army Scholarship Foundation in the memory of Private First Class Christopher R. Klassen who passed away at Fort Bragg, NC in October 2008. The son of Ms. Amy Klassen, brother to Ms. Jennifer Klassen, and uncle to Brianna Michelle of Saint Charles, MO, PFC Klassen was assigned as a member of the 82d Airborne Division at Fort Bragg, where he was stationed as a supply specialist. He was very highly regarded by his commanders and his fellow soldiers and had been recognized for his award winning success on unit supply inspections.
Chris was born on December 13, 1986 at Saint Charles, MO and was a product of the Saint Charles school system and the Gwinnett County public schools, located in Atlanta, GA, where he participated routinely in "Gifted" and accelerated classes. He was a man of many talents, loved music, and was a skilled guitar player and a gifted artist. Following his Army service to our nation, he planned to return to college to pursue a degree in Computer Science and Journalism.
Friends of the Klassen family have joined together with the Lenders One team to fund this scholarship in memory of Private First Class Klassen. Others wishing to contribute to this scholarship fund may do so by contacting the Army Scholarship Foundation.
The Army Scholarship Foundation was founded in 2001 to provide scholarships to deserving sons and daughters of US Army soldiers and Army veterans, and to spouses of enlisted active duty soldiers. The Foundation is sustained by the generous donations of its supporters. Tax deductible contributions can be sent to the Foundation at 6412 Brandon Avenue, Springfield, Virginia 22150 or can be made on line.