23 Jul

LTG Jay Garner Joins Honorary Advisory Committee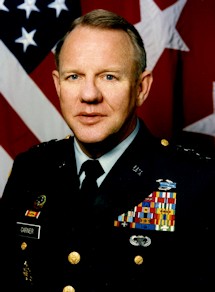 Lieutenant General Jay M. Garner, U.S. Army (Retired), has joined the Army Scholarship Foundation as a member of the Foundation's Honorary Advisory Committee.
General Garner was born in Florida and was commissioned in the U.S. Army upon graduation from Florida State University in 1962. He served two tours in Vietnam, and commanded an air defense battalion and a brigade in Germany. He also served as the Deputy Commanding General at Fort Bliss. While assigned as the Deputy V Corps Commander in Germany, he was deployed to northern Iraq following Operation Desert Storm to lead efforts to secure Kurdish areas. He later commanded the Army Space and Strategic Defense Command, and concluded his active service as the Assistant Vice Chief of Staff, retiring as a Lieutenant General in 1997.
Following his Army service he became president of SYColeman Corporation. In 2003 he was selected by the Secretary of Defense to lead post-war reconstruction efforts in Iraq. In this role he oversaw development and implementation of plans to assist the Iraqis in establishing their governance and reconstructing the country. Following his government service in Iraq, he again returned to service with industry.
General Garner is one of the Army's and our nation's most distinguished leaders. With over 50 years' service to the Army and Army families, General Garner is keenly aware and of the challenges faced by Army families today and is uniquely qualified to provide advice and support to the Army Scholarship Foundation's leaders and volunteers.
The Army Scholarship Foundation was founded in 2001 to provide scholarships to spouses of enlisted U.S. Army solders and to deserving sons and daughters of soldiers and Army veterans. The Foundation is sustained by the generous donations of its supporters. Tax Free donations may be sent to the Army Scholarship Foundation, 11700 Preston Road, Suite 660-301, Dallas, TX 75230.