31 Jan

Michele (Micki) Vonnegut Costello Joins Honorary Advisory Board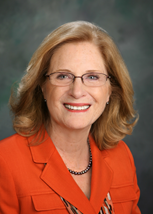 Dallas:  The Army Scholarship Foundation has announced today that Michelle (Micki) Vonnegut Costello has joined the Army Scholarship Foundation as a member of the Foundation's Honorary Advisory Committee.     
Micki Costello, born in Vallejo, California, has spent a lifetime on the move, first as the daughter of an Air Force pilot and later as an Army wife.  She earned a Bachelor of Arts in Art and Performance from the University of Texas at Dallas and has served as board member and advisor to numerous military-related, civilian and women's organizations. After raising her family, she returned to work in the Army Family Liaison Office in the Pentagon.  She was there on September 11, 2001 and was responsible for initiating and standing up the emergency family assistance center at Ft. Myer.   As military 'brats,' Micki and her late husband, LTG (Ret) Jack Costello, have always recognized the challenges faced by military families, and have endeavored to assist others reach their educational goals.
Micki, an artist working in her home studio, resides in Fredericksburg, Virginia.  She has two married children, a daughter, and a son who is an Army officer currently attending the Army War College, and five grandchildren.  She is a member of the Military Officers Association of America's (MOAA) Surviving Spouse Advisory Committee, active in the MOAA Heritage Chapter, serves as Chairman of the Board of Directors for the Tom Lea Institute headquartered in El Paso, Texas and is a member of organizations in the Fredericksburg and Northern Neck Virginia communities.
As an Army spouse for over 30 years, and an Army mother with an extensive record of service to military families, Mrs. Costello is very aware and of the challenges faced by Army families, and is uniquely qualified to provide advice and support to the Army Scholarship Foundation's leaders and volunteers. 
The Army Scholarship Foundation was founded in 2001 to provide scholarships to spouses of enlisted US Army solders and to deserving sons and daughters of soldiers and Army veterans.  The Foundation is sustained by the generous donations of its supporters.  Tax Free donations may be sent to the Army Scholarship Foundation, 11700 Preston Road, Suite 660-301, Dallas, TX 75230. To learn more about the Army Scholarship Foundation or to make a tax free donation, please visit www.ArmyScholarshipFoundation.org