09 Aug

Modern Technology Solutions, Incorporated Funds Honorary Scholarship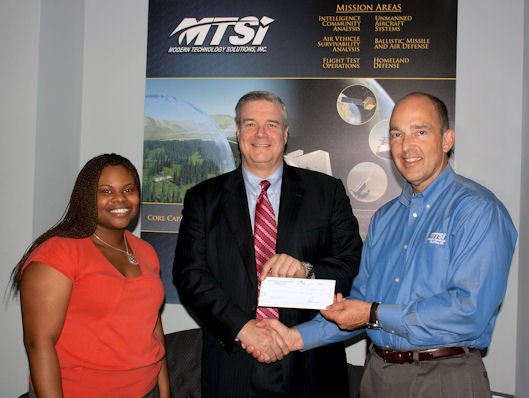 Phil Soucy, MTSI CEO, and Kara Smith, MTSI Corporate Giving Committee, present a check to ASF Chairman Jeff Gault.
The Army Scholarship Foundation announced today that MTSI of Alexandria, Virginia has funded an academic scholarship to support Army family members. This scholarship will be awarded to a deserving son or daughter of a soldier or spouse of an enlisted soldier. In presenting MTSI's generous donation to fund this award, Phillip L. Soucy, CEO of MTSI, affirmed MTSI employees' and the corporation's support for Army families, saying " We cannot thank our soldiers and their families enough for their sacrifices on behalf of our Nation."
MTSI is a small, dynamic, professional engineering services and technology company serving a variety of governmental and industry clients in aerospace, defense, and security arenas. It was one of only three companies that received a Future 50s Hall of Fame Award from Smart CEO Magazine, and was recognized by the Association for Corporate Growth as top a top Emerging Growth Company in 2010. MTSI combines big-company aerospace engineering capabilities with small company responsiveness and flexibility. MTSI takes pride in supporting the Army Scholarship Foundation as well as a number of other worthy causes, supporting the Nation while adding value and giving back to the community.
The Army Scholarship Foundation was founded in 2001 and provides scholarships to deserving sons and daughters of U.S. Army soldiers and Army veterans, as well as to spouses of serving active duty enlisted soldiers. The Foundation is sustained by the generous donations of its supporters, and tax deductible donations can be sent to the Army Scholarship Foundation, 11700 Preston Road, Suite 660-301, Dallas, Texas 75230.