15 Feb

Press Release: Family Joins to Establish Staff Sergeant John F. Kusior Memorial Scholarship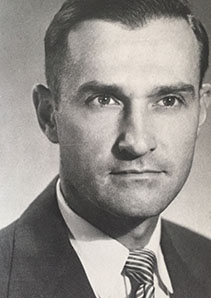 Release date: February 15, 2017
For more information contact Jeff Gault at jeff.gault@ArmyScholarshipFoundation.org
Family Joins to Establish Staff Sergeant John F. Kusior Memorial Scholarship
Dallas: The Board of Directors of the Army Scholarship Foundation announced today that the family of Staff Sergeant John F. Kusior has joined with the Army Scholarship Foundation to establish the Staff Sergeant John F. Kusior Memorial Scholarship in his honor.  This effort was led by his daughter, Mrs. Joanie Stephens, of Plano, Texas.  
John F. Kusior was a Staff Sergeant in the US Army Air Forces during World War II, serving in the Central Pacific Theater in the Gilbert Islands and Iwo Jima from 1941 to 1945. He attended Washington University on the GI Bill and graduated with a B.S. in Civil Engineering in 1952. He worked for the Illinois Department of Transportation for 32 years until he retired as District Engineer for Metro-East Department in 1989. After retirement, he worked as resident engineer on construction projects for cities and transit district in the Metro-east area of Illinois for 13 years. Caseyville IL was his home for 41 years where he served as Chairman of Caseyville Planning and Zoning Commission for 12 years. His wife, Eileen, and he moved to Plano TX in 1999 to be near his grandchildren. He continued his membership with the American Legion by joining Post 321 in Plano TX. John passed away at age 94 in January 2013. John had a high regard for education and hard work, both mental and physical. He appreciated the opportunities that applying both opened up in his life and endeavored to instill the importance of those into the work ethic of his children and grandchildren.  His family is most pleased to honor him as a member of our greatest generation.
The Army Scholarship Foundation was founded in 2001 to provide scholarships to deserving sons and daughters of US Army soldiers and Army veterans, and to spouses of enlisted active duty soldiers.  The Foundation is sustained by the generous donations of its supporters.  Tax deductible contributions can be sent to the Foundation at 11700 Preston Road, Suite 660-301, Dallas, Texas 75230.  Those wishing to learn more about the Army scholarship Foundation or to make a tax deductible donation may visit www.ArmyScholarshipFoundation.org.